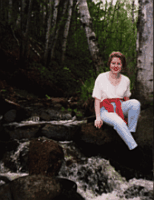 My sister
(Click on any picture to get a larger picture.)

I also have, pictures of her sleeping.

AND -- now she has her own home page.

My sister is cool. Here is a picture of us when she was a baby.


She likes the outdoors.


She has great hair.

Years ago, she had a hamster that ate sunflower seeds out of her mouth. Hmmm...


Here is her highschool graduation picture.



All dressed up, no place to go.