Navigate the World with Euler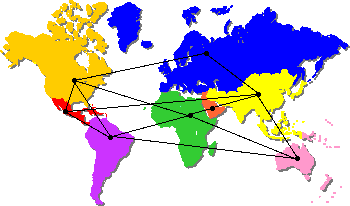 Africa . Asia . Central America & Caribbean . Europa . Middle East .
North America . Pacific . South America
---
The above regions of the world have all been given different colors. Each region also has been marked with a node or vertex and some (but not all) of the regions are connected with arcs.

If you were going to take a trip around the world, could you travel to each region without seeing any region more than once? What region would you start with? Describe your trip.



---
Application page
Museum application
Pilot application
---