Up:
The Projective Plane
---
The Roman Surface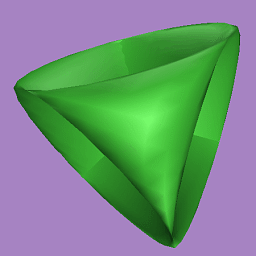 The Roman surface is an image of the real projective plane. It contains three segments of double points each of which terminates in two "pinch points", or Whitney singularities. A triple point is created where the three double point segments intersect.
---

Still pictures


MPEG movies


Interactive pictures


Equations


Data files. Not yet available.

---
Up:
The Projective Plane
---

The Geometry Center Home Page

Topological Zoo Welcome Page
Comments to: webmaster@geom.umn.edu
Created: Jun 27 1995 ---- Last modified: Tue Oct 10 21:53:15 1995
Copyright © 1995 by The Geometry Center, all rights reserved