Next:
Orrery
Up:
Geometry Center Visualization and Simulation Software
---
SaVi
SaVi is a program for the visualization and analysis of satellite constellations. It provides for the specification and tracking of an arbitrary number of earth-orbiting satellites. Satellite orbit parameters can be dynamically changed at any time during the orbit simulation.

SaVi uses Geomview to display a 3D view of the earth in which each satellite is represented by a small green box. The Coverage panel shows a color-coded image of satellite footprints, and tracks their evolution during the orbit simulation. The Overhead View panel is that of an observer looking up from a specific point on the surface of the Earth. The apparent positions of the satellites are traced across the observer's sky, which is projected "fisheye" style onto the panel.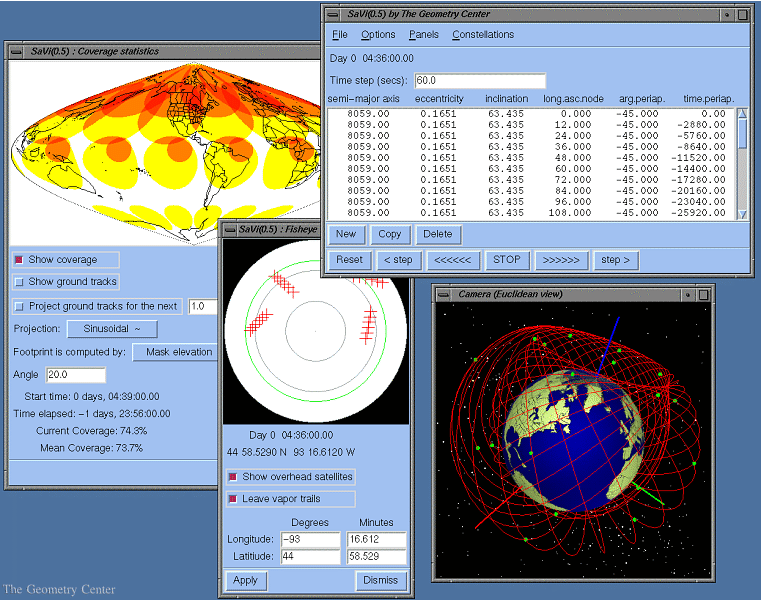 SaVi is currently under development; future developments will be motivated by the needs of the community. For futher information, see the SaVi home page.
---
Next:
Orrery
Up:
Geometry Center Visualization and Simulation Software
---

The Geometry Center Home Page
Comments to: webmaster@geom.umn.edu
Created: Oct 01 1996 --- Last modified: Dec 18 1996