Next:
SaVi
Up:
Geometry Center Visualization and Simulation Software
---
Crafter
In collaboration with scientists at NASA's Jet Propulsion Laboratory, the Geometry Center staff created an interactive spacecraft design tool called Crafter. It is intended for creating relatively simple models of spacecraft for use in mission animations; Crafter's learning curve is orders of magnitude smaller than full blown CAD packages. Crafter is also scriptable in Tcl, making it easy to integrate with other programs.

Given a palette of spacecraft pieces (truss, parabolic dish, cylinder, etc.), the user builds a hierarchical, geometric structure. Each part is attached to the structure with a specified transformation, consisting of a scale, a rotation and a translation.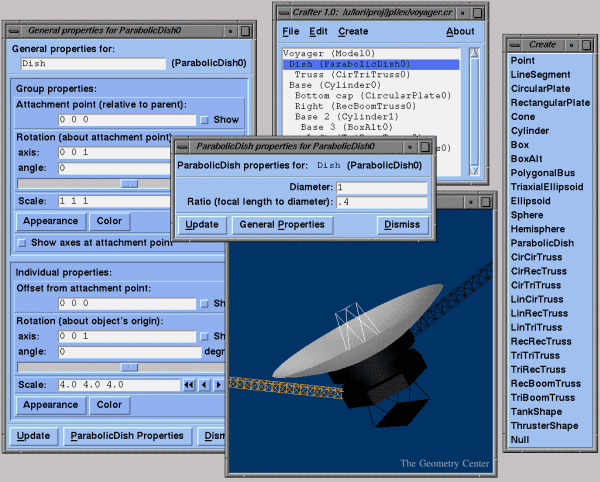 Crafter uses Geomview to display the spacecraft, giving the user complete control over viewpoint, lighting, and other appearance properties. This also makes it easy to incorporate spacecraft designed with Crafter into other Geomview-based applications.
For more information about Crafter, see the Crafter home page.
---
Next:
SaVi
Up:
Geometry Center Visualization and Simulation Software
---

The Geometry Center Home Page
Comments to: webmaster@geom.umn.edu
Created: Oct 01 1996 --- Last modified: Dec 18 1996