Next:
Mathematics on the Internet
Up:
Of Museums and Icosahedra
Prev:
Of Museums and Icosahedra
---
Just a few years ago, a trip to the local science museum resembled a visit to a taxidermy shop. The halls of the science museum displayed birds of prey, bears, cougars, and moose-all stiff, stuffed, mounted on pedestals, and accompanied by ``Don't Touch'' signs. The exhibits conveyed to all visitors that science was rigid, boring, and hardly accessible to the general public.
Fortunately, times have changed. Today even small science museums literally snap, crackle, and pop with interactive demonstrations of the physics of electricity, light, and sound. Visitors are encouraged to pedal, pump, and push their way through the exhibit hall. The message conveyed to today's museum visitor is equally clear: science is vibrantly alive, is fun, requires participation, and can be rewarding.
But where are the mathematics exhibits? One could argue that math is behind the scenes in almost every exhibit, but if math is behind the scenes then it is not in the public's eye. In an effort to make mathematics more visible in science museums, the Geometry Center teamed up with the Science Museum of Minnesota to develop an interactive mathematics exhibit for the general public that uses computer graphics to illustrate geometric ideas such as symmetry groups, tilings, regular polyhedra, and spherical geometry.
---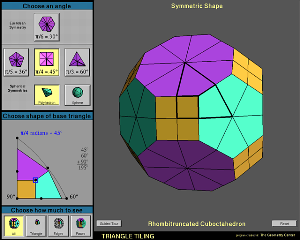 Figure 1: The graphical interface to a museum exhibit that allows visitors to explore regular polyhedra and symmetries.
---
The exhibit was designed for the science museum environment with visitors ranging from very young children to adults, so it is accessible to the casual browser yet has deep mathematical content for the more serious investigator. Computer graphics allow users to continuously deform a Platonic solid (that is, a regular polyhedron) into related polyhedra that are invariant under the same symmetry group as the original Platonic solid. In particular, given a Platonic solid (e.g., the cube) the museum visitors can investigate which Archimedean solids have the same symmetries. They can also discover that within the family of polyhedra, there is another Platonic solid (e.g., the octahedron) that is ``dual'' to the first Platonic solid, meaning that the faces and vertices of the first are transformed into the vertices and faces of the second. Users may also change the symmetry group in order to explore a different family of polyhedra, or to explore planar tilings.

The Science Museum of Minnesota estimates that about 3000 people use the exhibit during a typical week. Geometry Center staff member Tamara Munzner, one of the authors of the current Museum exhibit, is currently talking to other science museums who may be interested in this exhibit, and is also looking into developing future exhibits with the Science Museum of Minnesota. We hope that in the near future, people visiting science museums will also have the impression that mathematics, like the sciences, is alive, accessible, and fun!
---
Next:
Mathematics on the Internet
Up:
Of Museums and Icosahedra
Prev:
Of Museums and Icosahedra
---

The Geometry Center Home Page
Author: Frederick J. Wicklin <fjw@geom.umn.edu>
Comments to: webmaster@geom.umn.edu
Created: September 26, 1994 --- Last modified: Jul 21 1996