Up:
The SaVi homepage
---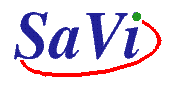 SaVi is free software; you can redistribute it and/or modify it only under the terms given in the file COPYRIGHT which accompanies the distribution.

If you use an image produced by this software in a publication or presentation, we request that you credit SaVi and the Geometry Center.

Please let us know how you are using SaVi and how we can make it better for you!

Please contact Patrick Worfolk for information on commercial customizations of this software and satellite constellation analysis.
SaVi 1.0 is now available!
Please download an appropriate executable. Source is also available, but we strongly recommend that you take one of the above precompiled distributions.
Additional constellations
Lloyd Wood has created a number of additional constellation scripts for use with SaVi. His latest contributions to SaVi, as well as a wealth of other information related to satellite constellations, are available online at http://www.ee.surrey.ac.uk/Personal/L.Wood/software/SaVi/.
---
Up:
The SaVi homepage
---

The Geometry Center Home Page
Comments to: savi@geom.umn.edu
Last modified: Thu Jun 19 14:28:11 CDT 1997