INTRODUCTION TO KALEIDOTILE SOFTWARE
ACTIVITY SHEET
---
Colors
If you have a color monitor, try changing the colors. You can do this on a black and white monitor, but it's not as fun.

Under the View menu at the top of the screen, select Colors.

You get the Colors window.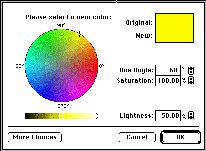 Push a colored button, and you will reach the palette.

Experiment with the palette to change colors.
---

Recall our introductory discussion of angles between mirrors. You can define new angles between the mirrors generating the displayed object by:
Selecting More Symmetry Groups under the View menu.
Change the values in the More Symmetry Groups window.
The warning in the window should be taken seriously. Using values like ¼ / 7 or ¼ / 8 could mean your computer will lock up.
Press the Set button to see what happens
---
| ACTIVITIES |
Copyright © 1995 by The Geometry Center, all rights reserved.