Next:
Geomview Overview
Up:
Geometry Center Projects
---
Important Note: This site is no longer Geomview's official web site and is being phased out. For the latest information about Geomview, and the latest release, see its new web site at
www.geomview.org
Older releases of Geomview are still available here.
Geomview: 3D Visualization Software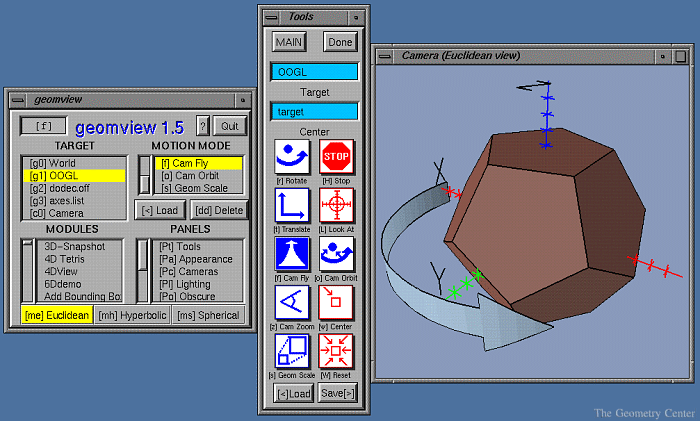 Geomview is an interactive program written by the staff of the Geometry Center for viewing and manipulating geometric objects. It can be used as a standalone viewer for static objects or as a display engine for other programs which produce dynamically changing geometry.
Obtaining Geomview:
Geomview now supports texture mapping!
Geomview now includes support for text objects!
The basic Geomview distribution is available for free. It runs on most Unix workstations; binaries, source code, and documentation can be downloaded from our
Information about Geomview:
---
Next:
Geomview Overview
Up:
Geometry Center Projects
---

The Geometry Center Home Page
Comments to: webmaster@geom.umn.edu
Created: Feb 20 1994 --- Last modified: Thu Sep 7 13:15:24 2000