HELLO WORLD! YOU'VE FOUND PETE WILSON'S MATH HOMEPAGE!
This page is under construction, but does currently contain some relevant and interesting links (many more math links in the future!)
Click here to see my response to question #8 of the Monge's theorem homework for math 5337.
Sports are another fantastic passion of mine!!! If you share this interest, click on that spinning little NEW do- hickey to the left to go to a staple homepage in any sports guru's diet.

Below is a picture of my charming wife, Jodie, and I chowing down on frog legs in Mexico!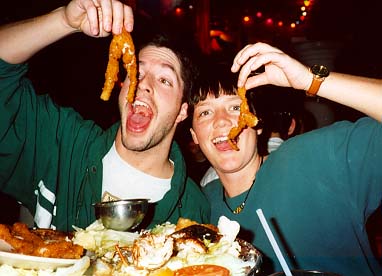 ---
TO EMAIL ME, CLICK here
TO GO TO MY GROUP'S MAIN WEB PAGE FOR MATH 5337, CLICK here .