Overview of Orbit Visualization Software Tool
---
The DsTool Software Package
Our orbit visualization software tool is incorporated as a special module to the DsTool software package. DsTool is a unique research tool developed at the Center for Applied Mathematics at Cornell University specifically for the study of dynamical systems. Its friendly graphical user interface and extensive computational capabilities provide the ideal environment for our specific investigation of the circular restricted three-body problem. To download and install DsTool with the orbit visualization software module, contact Patrick Worfolk at the Geometry Center.
Orbit Computation and Visualization Using DsTool
This website provides a description of how to use our DsTool module and how it works. The features of our module include the topics listed below. You may click on any specific topic to go there immediately, or you may begin at the Orbit Computation and Visualization Main Panel topic and take a complete tour of our software.
How to Bring Up the Orbit Computation and Visualization Module in DsTool
To bring up the orbit computation and visualization main panel, simply start up DsTool and follow these two menu choice steps:

(1)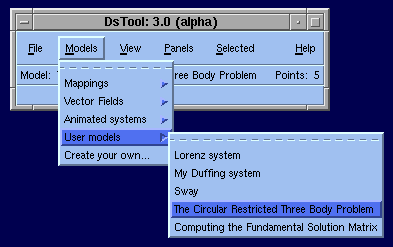 (2)