Initial Conditions and System Parameters Panel: Initial and Final Fields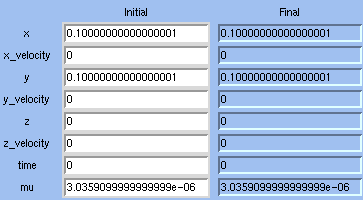 ---
The fields shown in the image above allow the user to enter system parameters and initial conditions into the DsTool system model.

Of particular interest to our module is the field for entering mu, since this is the only location where mu can be entered by the user.
The final conditions field is a display of conditions after DsTool has integrated forward by some number of steps. Integration in DsTool is not important to our module; further information can be obtained from the DsTool user's manual.




---

Back to the Initial Conditions and System Parameters Panel Description Page

Go on to Next Main Panel Topic