!Converted with LaTeX2HTML 95 (Thu Jan 19 1995) by Nikos Drakos (nikos@cbl.leeds.ac.uk), CBLU, University of Leeds >
---
Next:
About this document
Up:
No Title
Previous:
Convergence of Riemann
---
The following statistics are from the Metrodome publications Metrodome Fact Sheet and The Amazing Metrodome.
Highest point: 195 feet above the playing field
Total enclosed volume: 60 million cubic feet
Largest playing field area: 142,515 square feet
Stadium Area: 415,000 square feet
Roof weight: 290 tons
Roof exterior: 10 acres of teflon-coated fiberglass, 1/16th of an inch thick
Roof interior: woven fiberglass, 1/32nd of an inch thick
Roof support: 20 electric fans, 90 horsepower each
It takes 250,000 cubic feet of air per minute to keep the roof inflated.

Construction material:

40,000 cubic yards of concrete
11,900 tons of reinforced steel
500 tons of structural steel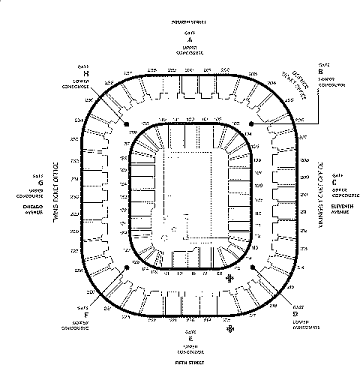 Figure: Diagram of the Metrodome (from the brochure Welcome to the Metrodome). The x-axis points up in this figure.

---
Bob Hesse
Thu Feb 20 09:21:36 CST 1997