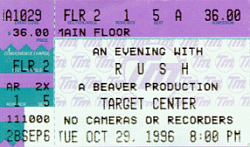 I have to say I had the time of my life! -- front row, center, a little toward Geddy (Floor2, Row 1, Seat 5) at the Target Center in Minneapolis.

During the month wait since we camped out for Rush tickets in the end of September, our anticipation grew intense. Four of us went to the concert -- me, my husband Ken, and our friends Nicolas and Jim.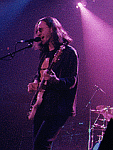 It was called "An Evening with Rush," and that's exactly what it was -- no opening band, no rabbits coming out of hats, just good, pure RUSH! Standing right in front of Geddy, I made tons of eye contact with him. He often exchanged smiles with each of us in the front row. I know he was smiling at everyone, but it felt like he was smiling just at me.

In the first few minutes, I was so overwhelmed, I thought I might faint.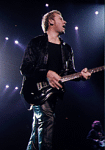 Alex was his normal goofy self. He loves entertaining the crowd.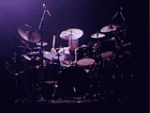 Neil was intense as usual. Ken and Jim said they caught him looking up at them. I never caught him looking up at all.

Overall, I thought the guys were HOT! -- maybe not as energetic as when they were younger -- but I don't care. They kept me wildly entertained for 3 hours (minus the 20 minute intermission). They played a good selection of music. Unfortunately, they did not play Resist. They didn't play it in Rockford either. Maybe I'll catch it in Alpine Valley on the second leg of the tour?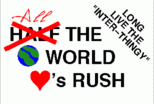 Before the show we were wondering how we could to get the guys' attention, not realizing that just being in the front row was enough. We made a banner and held up during Virtuality. The guys tried to read it, but I think it was too distracting -- a bit annoying. If I could do it all again, I wouldn't bring a banner, or I would bring a very simple banner that just said something like "Thank you!" and hold it up during the encore.




During intermission, I wanted so bad to get something to drink. My mouth was so dry. But I didn't want to take chances on not getting back on time for the second half. Jim, Ken and I were watching as one of the stage crew guys put more bottled water in Geddy's frig on stage. He also nabbed some snacks -- cheese balls and candy (Tang-a-roos, a "Smarties" clone). He saw us watching him and held his arm up to toss a piece of candy. Ken jumped up. The stage guy yelled, "Not you!" and tossed the candy to me. "If you eat that you're dead," Jim said. But my mouth was so dry! I suppose the stage guy (I'd love to know his name) was wondering why I wasn't eating it.


After the last song I tossed three roses on stage, one for each of the gentlemen in the band. Geddy and Neil didn't care too much, but Alex was kind enough pick one up. He then leaned over and tossed me a guitar pick. I fumbled and it fell on the floor. He waited to make sure I got it. When I looked back up at him, we each said "Thank you."
It was all so cool. And even though I have several momentos from the evening, the memories are much more valuable.
---
The images were taken at the Albany concert by The Spirit of Rush. They look exactly like my view from front row!