Statement of Philosophy
David Wiggins

---
Function of Education in Today's Society
---
The traditional role of education has been to transfer culture from one generation to the next. Formal education arose from the need to train skilled workers in an Industrial Age society. Today, as we proceed through the Information Age and into the Knowledge Age of societal development, we face the need to develop work force who can function effectively in a society rooted in technology and information processing.
Minimally, to become wise consumers, students must learn to reason and think critically about the world in which they live. Ideally, we must educate our children to become independent learners who are capable of locating, evaluating, processing, producing, and synthesizing information using a wide variety of resources and analysis techniques.
---
How Kids Learn
---
Students learn in different ways and at different rates. There are some ideas about way people learn that I believe are universal and which have helped to develop my instructional strategies.
Students learn best by "doing": Experiencing a cube is more potent than a teacher telling a student that a cube is a six-sided figure with squares on each side. Students need a rich supply of meaningful examples and manipulatives to help make ideas and relationships come to life.

Students make connections with past experiences: Cognitive psychologists tell us that knowledge is composed of vast connections made between bits of information stored in long-term memory. Learning is the process of building connections between new and existing (stored) information. Therefore, students learn best when new material is directly related to facts and ideas which have already been covered.

Students learn best if the material is relevant and interesting.: Learning is an active process. A student must give full attention to effectively engage in the material. The best way to captivate student attention is by making activities and discussion interesting, relevant, and (if possible) fun.
---
How Teachers Should Teach
---
Teachers should make every attempt to encourage all students to make the most of their education by becoming life-long learners. Teachers should emphasize critical thinking and problem solving skills by challenging students to question, reason, investigate, and conjecture. Students should relish in the thrill of learning and discovery. Here are a few things I believe that teachers should do to facilitate learning and to develop the students' passion to become life-long learners: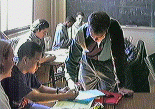 Teachers should model ideal behaviors of a life-long learner without exception.

Teachers should create lessons which require active participation from every student.

Teachers should encourage cooperation and collaboration, as mutually beneficial interdependence.

Teachers should challenge students to take risks, to strive for excellence, and to go the extra yard.

Teachers should be patient and willing to work with students who have trouble catching on.

Teachers should have fun too! Enthusiasm is contagious!
---
How I Teach
---
My approach to teaching is to make math understandable, applicable, and enjoyable. I stress to the students that mathematics is not simply a collection of concepts, formulas, and calculation skills, but rather, a logical and analytical way of thinking about every day life. I place a very high emphasis on critical thinking and problem solving skills.
Learn by doing: I feel that math is not passively learned, and I therefore try to create lessons which actively engage my students in fun and interesting ways. I also require that students spend a good deal of time working on homework assignments and projects.

Cooperative learning: I am a firm believer in cooperative learning with individual accountability. Group work forces students to share and explain their ideas and strategies with others. Math is best learned by teaching others - individual mastery of a topic is demonstrated when the student can teach it to others.

Math should be fun and exciting: I try to greet every discovery or revelation with enthusiasm and surprise. I always encourage students who are willing to make an educated guess at a difficult question. I make every attempt to designing activities which I find fun, and which may grab the students' attention. If I don't like the activity, how can I expect the students to enjoy it!

High expectations: I have very high expectations for all my students. I expect that each student will come prepared to actively participate and to do their very best work each and every day. I believe that my expectations often transfer to higher expectations within the students. Of course, it is important to nurture those students who have difficulty with this concept.
---
Why I teach
---
My interest in teaching began the year I started graduate school. Although I was hired as a teaching assistant at the University of Minnesota for my potential as a research mathematician, it did not take long for me to realize that I enjoyed the teaching aspect of my assistantship more than the research aspect. Enjoyment has flowed through the contact with students, the sharing of ideas and strategies, and the feeling of accomplishment that can only occur when someone struggles through a difficult problem. It was clear that I was making a positive impact on many of my students - a profound realization to me - and that I could be a much better teacher than researcher. My love of math and my desire to reach and impact my students led me to pursue a career in math education.
---
Goals
---
The more I learn about education, the more I feel I do not know. I believe that every teacher can make improvements in his/her teaching. Education is an art - a symphonic blending of content, delivery, and assessment. Different students require different blends of this medley. Although my list of professional goals is long, a limited list might include:
Make my student teaching experience an educational and rewarding one!

Increase parental involvement through improved lines of communication between me, the student, and the parents.

Work to improve the congruence between student and teacher expectation levels.

Develop creative and effective uses of technology for my high school students.

Become active and known in professional organizations such as MCTM and MEA.

Your comments are welcome, as are any job offers!
Please feel free to send your comments by e-mail or in writing to the following addresses:
Postal Address:
2497 Brenner Street
Roseville, MN 55113
email: dwiggins@math.umn.edu
WWW: http://www.geom.umn.edu/~dwiggins