Rainy Day Lesson Plan:
Filling a Box With Diamonds!
by
David Wiggins

Mathematics Education
University of Minnesota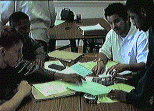 Introduction: This lesson can be adapted to suit the level of the student. Algebra students can work on skills such as collecting data, plotting points on a graph, and using formulas for volume. Higher algebra or calculus students can develop functional models and use more sophisticated techniques to interpret the data from the models.
---